14.000


VISITORS P.M.


15


EMPLOYEES


135


SALES COUNTRIES


100.000


PARTS IN STOCK
About BAS Parts
Truck Parts Europe B.V. is founded in 2008. They wanted to become the biggest Volvo and DAF parts supplier for both original and used truck parts. In 2010 Truck Parts Europe moved to a better location next to BAS Trucks with more storage capacity. To make the link with BAS Trucks more clear, they decided to change the company name to BAS Parts in 2012.
Our assortment
Because of our cooperation with BAS Trucks, we can purchase damaged trucks at the source. Since Dutch Volvo dealers sell Renault trucks too, we also added this brand to our assortment. That's why BAS Parts is grown to a full supplier of original parts for Volvo, DAF and Renault, but also alternative parts of other brands. To keep our stock updated, we dismantle trucks in our workshop in a professional way every week. We have more than 100.000 parts in stock.
Automation
To find the right part easy and quick, we register the last known part number by using an automated system. We greatly value customer satisfaction. That's why we guarantee a fast delivery and we arrange all required (export) documents and door-to-door transport both national and international.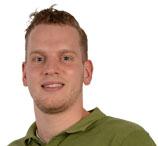 Employee experience
"At BAS Parts I have the opportunity to work independently and to develop my skills and knowledge. What I really like in my job is the diversity between selling and purchasing the parts. My technical knowledge makes it possible to think of multiple solutions for helping a customer."