5


EMPLOYEES


45


PROJECTS
New Business Development
BAS Trucks is always looking for new opportunities to keep growing as a company. Our New Business Development team filters, and drives forward all these strategic initiatives to ensure that BAS Trucks remains best-in-class. The projects vary widely from relatively small process improvements to setting up a completely new business unit. We distinguish between 3 different types of roles:
New Business Developer
As a New Business Developer, you are responsible for developing and realizing new chances within our organization. You build up a wide network of contacts across several industries and identify commercial opportunities. During and after execution of projects you work together closely with all different departments within BAS Trucks and BAS holding. It is your responsibility to ensure that all projects are executed well and are integrated in to the organization.
Business Controller
Business Control is an essential function in ensuring that the BAS Trucks organization runs as smoothly as possible. A Business Controller takes on internal improvement projects and coordinates across the different departments to ensure all stakeholders are involved and provide input. In addition to your project work you hold responsibility for certain organizational aspects; for example a foreign depot or the quality of our advanced telephony-system.
Accountmanager
The Accountmanager plays a critical role within the department of New Business Development; once a project is realized you are the main contact point for customers and contacts. During this initial phase there is a lot of pioneering work to be done to improve our product offering, by learning from the feedback from customers you are able to take any project to the next level. The Accountmanager always has the interests of these customers at heart and identifies issues before they become a problem.
Expats
Because of the international environment of BAS Trucks, we have people from many countries working for us. Click here for more information about working as an expat.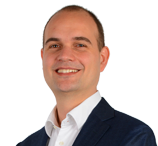 Bart - new business developer
Employee experience
"BAS Trucks has become a big player in the market - mainly due to innovation and investment in IT and E-commerce. After discovering interesting business opportunities, it's my job to develop our first activities in those areas and to make a commercial success out of it."