190


EMPLOYEES
Human Resource Management
Our employees are the key to success, so it's important to find and keep good employees. Development and training are really important to realise this. The deparment includes HR, training and recruitment specialists.
HRM
As HR employee you act as a reliable sparring partner for the staff and the management. You constantly think about improving and optimizing HR processes. You translate the HR policy and strategy into concrete proceduces and formats. Furthermore, you have some administrative and organisational tasks regarding HR.
Training
Do you get satisfaction from training employees? Then training coordinator could be the right job for you! You arrange the introduction periods for our new employees, so they can make a fresh start within our organisation. Furthermore, you are responsible for training employees if the internal system, the functionalities or the work methods are changed.
Recruitment
As recruiter you have to find the right people for every vacancy. You are continually looking for talent, whether they are students, starters or professionals.
Expats
Because of the international environment of BAS Trucks, we have people from many countries working for us. Click here for more information about working as an expat.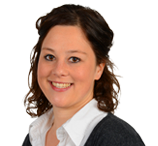 Employee experience
"Development is very important at every department. We are continuously working on new ideas for developing our employees and departments. As an employee at BAS Trucks you will get many changes and you are daily faced with the international activities. Every day again I become very enthustiastic by hearing all new oppurtunities and stories."