Internship at BAS Trucks
Talented students are always welcome to do an internship at BAS Trucks. We can offer you an internship in every branche, from purchase to marketing and from sales to workshop. All students with a relevant study can be eligible for an internship, whether you're doing an intermediate vocational education, higher vocational education or university education.
What can you expect?
Introduction
On the first day of your internship, our training coordinator introduces our company during a short presentation. Moreover, you get a tour through our main departments and business units. In this way you get a good impression of our company. Afterwards you go to your own department where you get further instructions by your supervisor.
Assignment
We offer you a challenging assignment based on your interests. The assignment is always useful for the business, so we really want to do something with the results or implement your plan or advice. Therefore, we assume that you are motivated. Of course you get enough time to work on your assignment.
Tasks
During your internship you can work like a full employee. You will get a supervisor who will guide you during the complete intern period. After the introduction you learn step-by-step how to perform your tasks. In this way you get more and more responsibilities, so you will learn a lot in a short time.
Future
We see an internship as the opportunity to get to know you and see what we can do for each other in the future. Are we satisfied about you? Then you have the opportunity to continue working with us beside your study or to start working as a full-time employee!
What do we offer you?
We offer you a nice opportunity to do your internship at a professional trade organisation. Every week we try to score again with our motivated and dynamic team. BAS Trucks offers everyhing wat you need to develop yourself.
Internship allowance between €250 - €330 per month (depending on your study and days present);
Professional guidance;
The possibility to get a professional job after your internship if we are satisfied about your performance;
A relaxed and friendly work environment with Friday afternoon drinks and parties;
Good to know: You can reach BAS Trucks with public transport from Eindhoven (20 min.) and Den Bosch (35 min.).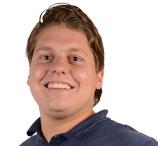 Employee experience
"I can develop many new skills and I am learning a lot in short time because I can alternate my assignment with other tasks. I am really feeling like I can contribute a lot tot to the company. "