200.000


VISITORS P.M.


7


WEBSITES
Marketing
With a database of more than half a million of clients, 200.000 website visits per month and 35.000 personalized and automated mails per week, marketing has a prominent role within BAS Trucks. Our marketing team consists of project managers and specialists within the fields of E-commerce, communication, concept design and data. The team is part of the IT department, which allows us to keep improving our high-end tools, automated mails and websites continuously.
Project management
As a project manager you are responsible for developing and optimizing our internal and external projects and systems. You identify the wishes of the business, create a functional design and give direction to the web developers during the development phase. Also after testing and implementation it's your job to ensure that everything keeps working properly.
E-Commerce
Do you have a commercial mindset and does it give you a thrill if online statistics improve because of your approach? If the answer is yes, you may consider being an E-commerce manager! In this job you are mainly concerned with improving the findability of both our websites and the portals on which we advertise.
Communication
BAS Trucks also needs communication specialists. In such a job you focus on both internal and external communication. For example, you write attractive and professional content on our website, mails, brochures, flyers, social media etc. Since our customers are coming from more than 100 countries worldwide, it's a big challenge to fulfill all wishes and expectations.
Concept design
As a concept designer you are primarily focused on designing and inventing both new and existing concepts within our corporate identity. These tasks may vary from designing flyers to creating completely new websites.
Data
In this job you analyze all generated data from mailings, websites and requests, from which you draw conclusions that may lead to interesting new insights and ideas. For example you can use logic and analyses to optimize our software and systems. Besides, you increase the number of relevant contacts in our customer database.
Expats
Because of the international environment of BAS Trucks, we have people from many countries working for us. Click here for more information about working as an expat.
Vacancies
Can't find a suitable vacancy? Please send an open job application.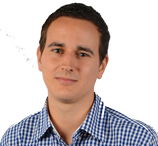 Employee experience
"On the one moment I'm trying to improve our Google-ads in South-America, on the other moment I'm suddenly experimenting with special webpages on our website. The international character of BAS Trucks makes my job extra cool!"