Make a flying start at BAS Trucks
Are you just graduated or do you have almost no work experience? Then you are more than welcome to start your career at BAS Trucks. We offer many challenging entry-level jobs and traineeships in various disciplines, so you start with all kind of studies. Moreover, we offer plenty of room for development and support to make a good start of your career.
What can you expect?
Introduction track
You will start your career at BAS Trucks with an introduction track. Depending on your function you take a look at different departments to get a good impression of BAS Trucks. Moreover this is a good way to get to know your colleagues. Furthermore, you follow a training program including e-learnings about our internal systems.
Getting started
After your introduction track you will start performing your job. You will learn a lot in a short time by training and coaching 'on the job'.
Development
We offer group trainings regularly to improve your skills and knowledge. To stimulate your personal and professional development, you get a performance appraisal with your manager every quarter. In this way you develop yourself to a real professional!
What do we offer you?
We offer you a nice opportunity to work at a professional trade organisation. Every week we try to score again with our motivated and dynamic team. We offer good internal training programs to develop yourself and we challenge our talents all the time.
Good study opportunities;
Both internal and external trainings;
A pension plan, study expenses and salary savings scheme;
A relaxed and friendly work environment with Friday afternoon drinks and parties.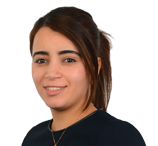 Employee experience
"During the training period I was prepared to get started in the truck industry. At BAS Trucks are plenty of challenges so I can continuously keep on learning and developing myself."