Training & Coaching
At BAS Trucks you get plenty of space to show your talents and develop yourself. By training and coaching you develop yourself both professionally and personally.
Customized introduction plan
If you start working at BAS Trucks, our training coordinator will make a customized introduction plan, dependent on your job and knowledge. You will get an introduction on each department to get to know the company and your colleagues. Furthermore, we have an e-learning program to learn everything about our systems. 'Training on the job' is also part of your introduction plan.
Training
Professional staf are highly appreciated by our customers. Besides knowledge about vehicles, it's also important to have knowledge about the market and our systems. To keep you knowledge up-to-date, we give internal and external trainings regularly, like a truck technique training, a language course or a sales training. Some departments also organise 'share your knowledge' sessions. During a session a colleague will share his/her knowledge. Furthermore, you can improve your knowledge by attending interesting seminars and trade shows.
Coaching
You can develop yourself not only professionally, but also personally. You will make a personal development plan together with your manager. Each quarter you get a performance appraisal to evaluate your process. At the end of the year you get an evaluation of your performance and your professional and personal development.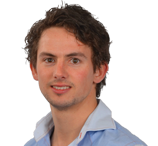 Jeroen - Training and project management
Employee experience
"At BAS Trucks all processes from purchase to delivery are completely automated. As project manager I am gathering all wishes from the business. An important part of improving automatic processes is informing the employees. Sometimes it is necessary to develop tutorials or plan a training."