50


EMPLOYEES


110.000


MAN HOURS
Workshop
BAS Trucks has its own workshop where more than 50 mechanics are daily working on our trucks. On yearly basis we turn over more than 110.000 working hours, which puts our workshop amongst the biggest ones in Europe. Within the workshop department we can distinguish five disciplines.
Check-in
To be a check-in employee you need to have sufficient technical knowledge. All incoming vehicles are being carefully checked by you and after that, you will put all the correct vehicle specifications in our system. Possible defects are being mentioned by you immediately, which allows the mechanics to repair it as soon as possible.
Warehouse
In this job you are responsible for maintaining and optimizing the work flows in our warehouse. You take care of the inventory and you provide the correct truck parts to our mechanics.
It's also possible to work for BAS Parts as a warehouse employee. In that case you have responsibility for more than 100.000 truck parts! You work as a catalyst between sales, purchase and several dealer workshops.
Service coordination
As a service coordinator it's your job to create and maintain the planning and organization of everything related to the workshop. This means that you get full responsibility for the amount of accepted work and the realized work. For example, you keep an eye on the daily progression of the amount of employees which you planned for the workshop and the warehouse activities.
Repair and disassembly
As a repairman you repair trucks, trailers and sometimes you disassembly vehicles for gaining parts. You make sure that the vehicles are made completely ready to be sold, both technically and visually. Switching and (de)mounting of truck tyres for customers of BAS Tyres is also a part of the job. Within the team we have several foremen who will be directing and guiding the mechanics.
Carwash and spray booth
Cleaning a truck is the final step before going into the sales process. Sometimes they need a paint job as well. You make sure that they are being cleaned and/or painted. Every single vehicle gets a specific cleaning work order.
Expats
Because of the international environment of BAS Trucks, we have people from many countries working for us. Click here for more information about working as an expat.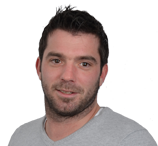 Employee experience
"I'm responsible for organizing and planning of the whole workshop. In order to do this, there needs to be a good coordination with other departments like sales, purchase, sales support and shipping. At BAS Trucks we work very hard for each other and we are likely to help each other if needed."